As many know I have recently purchased a property in BC. This forum is the BC forum. It isn't the Vancouver forum nor is it the yum cha central forum for the CCB (Chinese cheer boys) for a few square km of Vancouver, where they live.
Now to start out
WARNING WARNING WARNING – Vancouver property is in a bubble and will collapse. Unless you want to lose lots of money dont buy.
.
Personally you would need to be bordering on insanity to buy in Vancouver at the moment
Now back to the purpose of this post is to explain a methodology of how you can buy real estate for a value. I originally trained as an accountant and then as a property valuer. I wanted to understand how to place a value on things and not rely on others who may in reality not have my best interests at heart. Do property developers, marketing agencies, realtors and flippers have your best interests at heart? Absolutely not. They will take your money and laugh at your stupidity.
I have worked in the property industry for 27 years with last 22 running my own development company. I owe nothing to the Canadian property industry.
Personally I do know that property prices can and do crash. I also understand the misery that that brings. The reason I post is to warn as many people as possible that the property prices do crash, and the pain and misery that brings. I have experienced that and wouldn't wish that on anybody and that is why I make that effort.
I have no axe to grind, and having already bought, even more so. My only reason to post is so real Canadians don't spend years in misery while a select few laugh at them and count the money in their bank account.
In late 2007 I had a 3 ½ week skiing trip in BC. I had been thinking of buying a 50' yacht, but when I saw my family enjoying the skiing holiday so much I abandoned that idea and set my sights on buying a ski property in BC.
In June 2008 my wife and one of my sons travelled to Canada and around BC, including up the inside passage to Prince Rupert and across to Jasper.
I joined this forum in May of 2008 looking to find general information about property in BC. Frankly what I found on this forum flew completely in the face of reality. While I found plenty of delusion and mania I rarely found much valuable information.
Now already we have seen this sort of rubbish from bullish posters upon hearing that I had purchased..
eyesthebye wrote:congratulations taipan.
Sorry, fella. You've a bull, not a bear. A bear doesn't buy real estate
by eyesthebye » Thu Mar 29, 2012 8:53 am
Now this is patently false.
Let me make this patently clear. "There are many who know the price of everything but the value of nothing.
ETB acts and may very well be a realtor pumping the market. Realtors make the most money when prices are rising and properties are being sold quickly.
The last thing a realtor wants is for the number of properties for sale to build up to massive levels. No sales no income. Desperate people do desperate things!
Our ETB is a classic example.
viewtopic.php?f=8&t=58827
The purpose of buying for value is to make sure you get ripped off as little as possible. My comments on price are well expressed elsewhere on this forum.
However succinct to say that prices right across Canada has increased dramatically over the last decade caused purely by a credit bubble. Vancouver isn't special. It isn't different and it is in a bubble which will collapse.
So in 2008 when I arrived in BC to buy a property I quickly realised that prices were rising dramatically. As a property valuer I asked for as much sales evidence as I could get my hands on. I then sought out the national indices to see what was going on.
By June 2008 the bubble was in full swing and I quickly realised that to play in such a game would quickly lead to significant losses.
Realising that the overall Canadian market was already into a bubble, I then needed to focus on where true value lay. If any market is in a bubble it will eventually fall back to its long term value trend line. Also known as the long term mean.
Personally I was looking to buy for value, and if I could get what I wanted for value I wouldn't worry. Remember this is June 2008. I looked back at the Teranet index and found that around 2006 was the price level that the long term market could find value. In particular in the early part of that year before prices really took off.
At that time i was stunned by the attitude of the banks, who upon opening some new accounts offered me a $500,000 mortgage. I mean WTF. They didn't know me from a stop go man on the highway. I absorbed that. When i suggested to the bank manager in June 2008 that already Canada was in a bubble and was going to crash, it was as if I had called her mother a slut. Such was the horror.
In fact my call was spot on and over the next 9 months prices plunged and in fact should have returned to the mean except the Canadian government threw everything in their kit bag at the market to revive it.
And they succeeded! But at a cost that there remains nothing in their arsenal!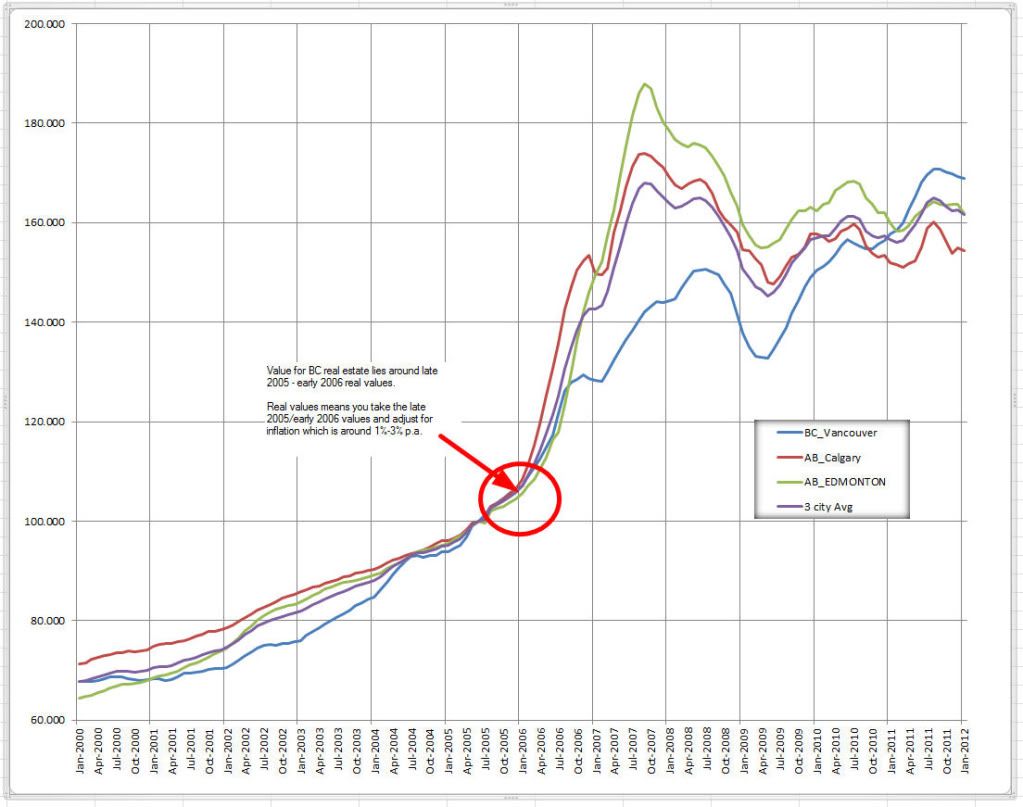 One of the keys about buying for value is identifying where true value really lies. At that point you need to identify market transactions that represent actual value. Luckily in the micro market that I was looking at was an excellent example of a market bench mark. Not only was it an excellent benchmark, but in only 2 ½ years it was already back on the market for sale.
Over the long term, prices always revert to the mean which is supported by income levels. Whats that mean? It means that over the long term 20 – 30 -40 years prices always move up or fall back to the average. You need to identify where that really lies.
Secondly when you find that point in time you need to identify as many sales that occurred at that time as possible and then analyse them. They will become your benchmarks to identify long term value. Only when sales prices fall to that point do you jump in and buy.
In part 2 we will look at the psychology of vendors in a bubble.